Click here to view original web page at passionfortravels.com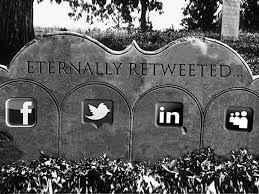 The grief over losing someone we love is terrible. Many people deal with it in a different way, but the emptiness inside is all the same for everyone. There are no words that can make it better and there are no actions that could bring that person back. The hard part is accepting that we would never see them again and would never talk to them again. To deal with the lost some people decide to keep everything the way used to be and keep all belongings of that person, others prefer to get rid of everything. But have you asked the question what happens with all their social media accounts? Do we have the rights to deal with it in the same way? What can go wrong if we don't take actions on that part?
*What is the law saying about your digital properties after you die?
This is a very new concept and the procedure is not very well established in many places. It's different from country to country and state to state. Most countries do not have a well-written path of how to deal with the matter and will grant access to anyone if you do not have a direct instruction and written legal permission. The law for protecting personal information is the main reason for granting access. In many countries and states if you do not have the permission of that person before their death you would have to get a court order to access their accounts. Even if you do know their passwords you are technically breaking the law, but no one really gets in trouble for that so far.
What happens with your social media when you die?
* YouTube Channel:
If nobody can get into the account, then the account basically freezes in place. YouTube keeps paying absence money until the videos stop profiting unless the bank account is closed.
How to get access to someone's else YouTube account:
Your full name and contact information, including a verifiable email address.
The YouTube account name of the individual who passed away.
A copy of the death certificate of the deceased.
A copy of the document that gives you Power of Attorney over the YouTube account.
If you are the parent of the individual, please send us a copy of the Birth Certificate if the YouTube account owner was under the age of 18. In this case, Power of Attorney is not required.
*Facebook account
The society that lives in social media will also moan in social media. Facebook is one of the first social media that can provide this option. Profiles that aren't removed or memorialized remain active on Facebook forever. That means the profile could continue to show up in searches, people-you-may-know suggestions, ads, and those all-too-frequent birthday reminders. If friends and family don't want to be reminded constantly, the page should be locked down or removed entirely.
Options if someone did not plan in advance?
Facebook allows an active account to be turned into a memorial account by an immediate family member with proof of death. When a Facebook account is turned into a memorial account, friends can post to the deceased's page and tag them in photos. You can also deactivate a deceased person's account instead of memorializing it.
How to:
Memorialized Accounts:
Fill out the Memorialization Request here.
Once someone's profile has been designated as a memorial, the friends and family will be allowed to see it, but it will not show up in searches and notifications. Facebook is very clear that once a page is memorialized, there is no going back. The page and all its content cannot be altered in any way — except by a designated legacy contact.
Permanently Deleted Accounts:
What can you do in advance:
Facebook allows you to choose a Legacy Contact that will be able to access your account after death. Here is how to set up yours:
Log into your Facebook account.
Click the down arrow at the top right of the window, and select Settings.
In the left-hand menu, click on Security.
In the Security Settings list, click on the Legacy Contact.
Type in your Facebook friend's name to add the legacy contact.
*Instagram account
Instagram also allows for either memorialization or deactivation of a deceased user's account. Instagram requires proof of relationship or authority that you are a lawful representative of the deceased person as well as the deceased person's death certificate.
How to:
Memorializing Instagram accounts:
To memorialize an Instagram account you would have to contact Instagram and show a proof of death, such as a link to an obituary or news article, to memorialize an account.
Here are some of the key features of memorialized accounts:
Instagram doesn't allow anyone to log into a memorialized account.
The profile of a memorialized account doesn't appear differently from an account that hasn't been memorialized.
Memorialized accounts can't be changed in any way. This includes changes to likes, followers, tags, posts, and comments.
Posts the deceased person shared, including photos and videos, stay on Instagram and are visible to the audience they were shared with.
Memorialized accounts don't appear in public spaces, like people's
Removing Instagram Accounts:
* Twitter account
While there might not be an option to memorialize a Twitter account, family members or authorized individuals can request to have a deceased person's account deactivated.
Requires a death certificate and user ID of deceased as well as your user ID for deactivation.
What friends & family can do?:
To Remove an Account: Fill out the Privacy Form here.
Select I want to request the deactivation of a deceased user's account.
Fill out the Report details form, and click Submit. Twitter will then send a confirmation email with instructions to complete the request.
* LinkedIn account
LinkedIn has several requirements for deactivation including the deceased's name, your relationship to them, the name of the company the deceased last worked for, a link to the deceased's profile, proof of death and their current email address.
* Snapchat account
Not possible to delete without having to log in
* Pinterest account
Deactivation requires a death certificate, link to their Pinterest page and proof of your relationship to the person.
* Emails
1. Yahoo
The family can request that Yahoo deletes the account.
2. Gmail
The family can request that Google deletes the account.
You can be prepared by using Google's inactive account manager
Why should you be prepared?
It would make it easy for your family and friends
Your family and friends won't lose any potential income from online platforms
Protect your digital legacy from an identity thief
Protect your family and friends from potential online attack and unwanted comments
How to avoid becoming a digital ghost after dead:
With social media taking over our personal lives more and more every day, the companies providing data-management services expand in the last few years.
A cottage industry of online data-management companies has begun selling services that claim to transfer your digital assets to your beneficiaries. One such service is offered by SecureSafe. But there is still potential conflict with federal laws and users agreements in different countries.
Applications like If I die allows you to pre-record a video that will be published on your social media accounts after your death.
If you have a will or funeral plan, include your social media assets there too.
Make a list of all accounts and passwords someone might need (LastPass and 1Password)
Name a person who would become your Digital Executor
Information to Include in a Power of Attorney or Will
List of all account numbers, banks, and institutions that are managed online.
List of all credit card accounts managed online including the name of the card issuer and card number.
List of cloud photo storage software/website and password.
List of email, internet and messaging programs used and their passwords.
List of monthly subscriptions and their passwords, i.e. Amazon Prime, Netflix, etc.
List of social media accounts and passwords.
Master password for your password saver software or list of current passwords.
Passwords for audiobook software if separate from phone operating system or another online account such as Amazon.
Passwords for music software such as Amazon Music, iTunes or Spotify.
Phone unlock code and operating system password.
URLs of online journals or individual blog articles.
Here is an example of good online organizer and another social media death planer
Planning your own death would never be fun but if you do so, you should start considering including your social media accounts. We live in a time when is almost creepy not to have social media accounts and therefore we should try to protect our loved ones in any way we can.