Click here to view original web page at simplemoneytipsforwomen.com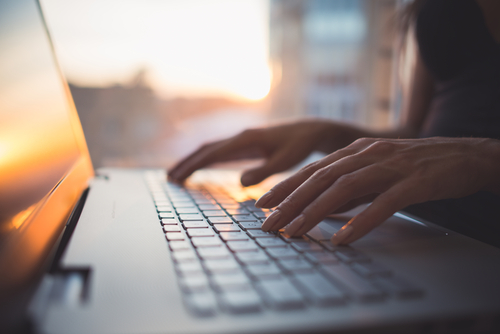 Digital estate planning is a way to plan for your death and determine what happens to your assets after you die. Because many people are uncomfortable with thinking about their death, essential estate planning steps are never taken or enacted. However, with new technologies becoming an integral part of our lives today, it is important to not only do estate planning for our existing assets, but also for our digital assets as well.
Many people think after creating the standard wills, trusts, power of attorney, and health care directives they can be done with their estate planning, but it is equally important to plan what will happen to your social media accounts, emails, and other online accounts. Lack of digital estate planning can cause your loved ones to suffer a lot of unneeded stress, especially if that lack of planning means that your social media accounts (along with important information and pictures) is deleted unceremoniously and your electronic bills pile up in an inaccessible email account.
Digital ASSETS
Digital assets are basically anything that is stored electronically (i.e. in a binary format) and comes with a right to use the asset. It encompasses items like computer files, electronic mail, photography, logos, illustrations, animations, presentations, spreadsheets, word documents, videos, and other digital files that are currently in circulation on digital devices. This means that all of your Facebook photos are considered a digital assets, your emails are digital assets, and the Prezi presentation you created three years ago is also a digital asset.
DIGITAL ESTATE PLANNING
When creating your digital estate plan, you will need to take an inventory of your assets, much like you would for a normal estate plan. However, instead of cataloging your collectibles you will need to compile a list of all of your emails, social media accounts, and other digital assets. You will also need to make sure your will or trust makes some mention about what will happen to these digital assets and who will be able to access them. Unfortunately, U.S. does not have any uniform laws concerning digital assets. If you only have a will (which has to be administered through probate court), your will may have to be administered in other states where the digital assets were "owned" by you. If you have extensive digital assets it is best to put them in a trust to avoid costly probate procedures.
Some social network sites and large technology companies, such as Google's Inactive Account Manager and Facebook's Legacy Contact, have created tools to help people plan for their death in regards to their digital assets. However, these tools are site specific and do not fully encompass all of your digital assets. New technology companies like Legacy Locker, Estate Map, and Password Box help keep track of your digital assets for you and help you develop a plan for them when you are gone.
LEGACY CONTACTS
Facebook is the social media site with the most developed procedures in place for an account holder who dies. In fact, Facebook has five different ways to handle a deceased user with the most recent option being the Legacy contact. The five methods Facebook offers are:• The profile remains untouched. If no one reports the death to Facebook, then the account will exist as it did when the user was alive.
• If the user's death is reported to Facebook, and after Facebook receives proof of death (obituary or death certificate), the page can become a "memorial page," on which friends and family can post condolences and share memories. However, this profile will no longer be accessible through public search and new friend requests cannot be sent to the deceased.
• A close family member may petition Facebook to deactivate and delete a decedent's account.
• A close family member or friend may gain access to the decedent's account through prior knowledge of the user's password (which is against Facebook policy) or may acquire the password through a court subpoena. Keep in mind, courts rarely grant outside access to social media accounts.
• A person can name a Legacy Contact to take care of their Facebook account after they die.
A Legacy Contact will take care of the decedent's account after their profile has been memorialized. A Legacy Contact is not allowed to log into your account or alter past posts or photos you may have shared. The Legacy Contact may write a pinned post on your profile, as a sort of final message on your behalf or information about the funeral services. If you would like to add a Legacy Contact to your profile, first you will need to go to Settings, then Security, and click on Legacy Contact. There you will be prompted to type in a friend's name and click add. After your friend is added, you may message them and let them know they are now your legacy contact.
MAKING A PLAN
Now that you know about the importance of managing your digital assets after death, it is time to make a plan. Follow these easy 5 steps to secure your digital assets after death:
Inventory your accounts and log in information. Like a regular estate planning document, you will need to inventory all of your digital assets and how to access them. You should include your social media accounts, any blogs or websites you own, email accounts, online retail accounts like eBay and Amazon, and any bills you pay online.
Store this Information in a Safe Place. You need to be cautious when storing this information, because it could easily lead to identity theft if stolen. There are online storage sites that can securely encrypt your information and store it till your beneficiaries are able to access the information. If you are including this information in your estate planning documents, like your trust, your attorney may be able to store this information for you.
Name a "Digital Executor." Your digital executor will be the designated person to carry out your digital estate plan upon your death. Once you decide upon an executor, you will need to name them in your will or trust. Remember, if you only have a will, your will must be probated. If your digital assets are spread across the country, your estate will likely have to expend extra money to probate your will accordingly.
Make Detailed Instructions. In your will or trust, you will need to specifically note what you would like to happen to your digital assets much like you would dictate how you want your bank accounts distributed at death. An estate planning attorney will be able to help you with this process if you are finding it difficult to come up with a written plan for your digital assets.
Your Final Message. Many people like to post a final message online after they die. The decision is up to you to make, but if you decide you want to post a final message, your digital executor will need to have instructions in your digital estate plan on how to post a final online message to friends and family.
Authored by:MacLaren Law LLC
Serving Columbus and Central Ohio
MacLaren Law LLC provides counsel for the estate and business planning needs of Columbus, Ohio and its surrounding communities, including: Bexley, Dublin, Upper Arlington, Worthington, Westerville, Pickerington, Pataskala, Delaware, Plain City, New Albany, Gahanna, Newark, Zanesfield, Marysville, Powell. MacLaren Law also serves Franklin, Delaware, Knox, Licking, Union, and Muskingum counties.