Click here to view original web page at pcjow.com
These days, when so much of our lives are spent on the Internet and social media, and our digital footprint is more vivid than ever, we are probably worried about what will happen to all of our stored and valuable information after death.
The thousands of photos we have taken with our phone over the years, the notes and memories we have written in various applications, the audio files we have recorded, the passwords we have stored only in the phone or even the wallet in which we keep our passwords all to ourselves. Are available; Because our smartphone only responds to our fingerprints or we are the only one who has our phone password.
This security measure is appropriate and understandable; But if we are the only ones who have access to our account, then none of our friends and family will be able to access it, and it is as if we have taken all these memories with us. If you are an iOS user and are concerned about the legacy you are leaving in the digital world, Apple has added a new feature called "Digital Legacy" to address your concerns in iOS 15.2, which you can enable to trust some of your trusted people. Allow access to your Apple account after death.
Mike Abbott"Apple introduced the Digital Legacy at the WWDC event," said Apple Vice President of Cloud Services.
It is true that we often do not think about this; But it is important to be able to easily share our information with family or friends after death. Now such a feature is possible by adding people's names to Legacy Contacts. This way, after death, these people can request access so that your information can be accessed easily and quickly.
Prior to this feature, it was difficult to access the Apple Account of a deceased family member or friend. Without an iPhone password or iCloud information, survivors were sometimes forced to sue for access to their lost digital data. If a family member needs the deceased's phone number, email, password, notes, or other information, the Digital Legacy feature can be helpful. Of course, if this user is not one of those people who believe that all the passwords should be buried with them.
How to enable Digital Legacy feature on iPhone?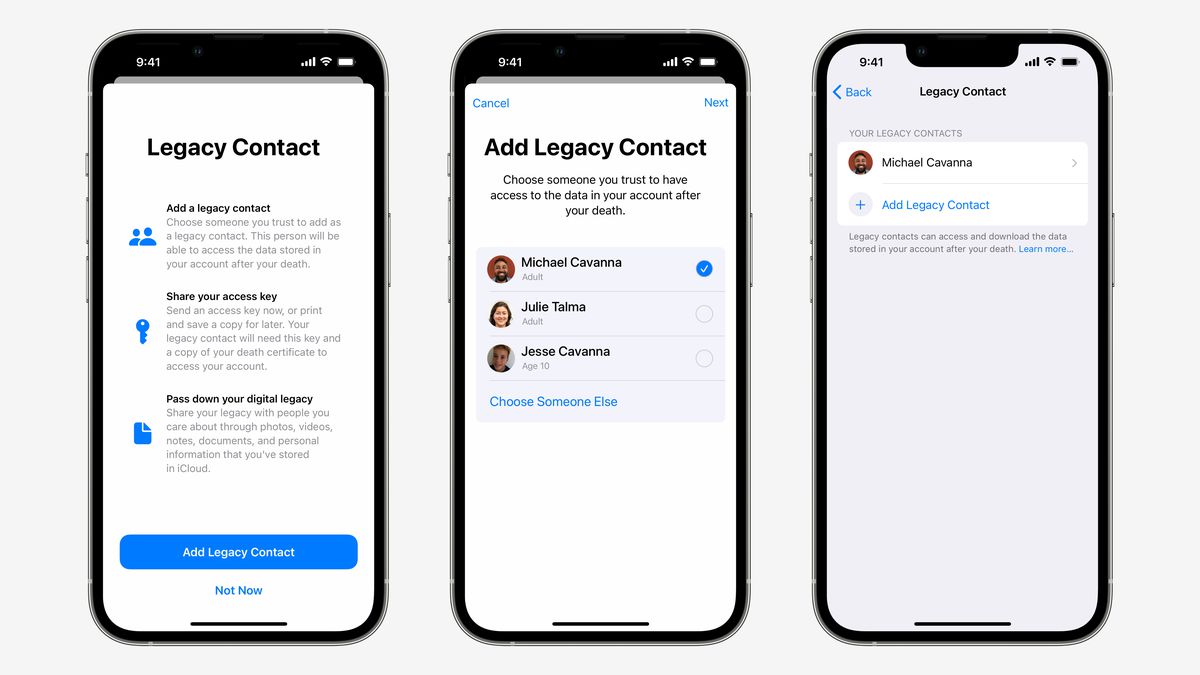 To access the Digital Legacy feature, you need to update your iPhone or iPad's operating system to iOS 15.2 from Settings> General> Software Update; Of course, this feature is currently in the public beta stage and is not yet enabled for all users. If this feature is enabled for you, you can do the following steps to set it up:
Enter iPhone settings.
Tap your name at the top of the screen.
Select "Password & Security" and then "Legacy Contact".
From the contacts list, select the names of 5 family members or friends.
At this point, you will receive an access code. SMS this code to the people you have selected via Messages. Upon receipt of the code, a copy will be automatically saved in their Apple ID settings. This code and death certificate are required to access the account.
Note that the contact added to the "Legacy Contact" list requires an Apple ID to enter the access code; However, having an iPhone is not required. Also, if their phone's operating system has not been updated to iOS 15.2, the access code will not be automatically saved in their phone's settings and will need to be retrieved in some other way.
How to access the data of the deceased?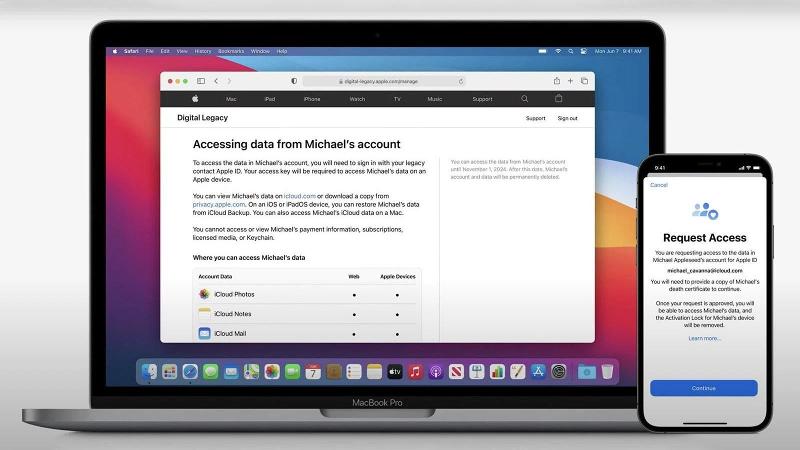 If your name is added to a Legacy user list, you will need to obtain a special code to access their data through the Digital Legacy feature. The user can send you this code via Messages so that after accepting the invitation, it will be automatically saved in your Apple ID settings. If the user's invitation is not accepted, they will be notified to select another person for this responsibility. Apple has also made it possible for users to print this code or attach a PDF version of it to their will documents.
In addition to this code, users will need to have a copy of the death certificate available for Apple to verify that the person in question is not alive. With these two documents in hand, you can go to Apple's Digital Legacy page and, after verifying your Apple account and answering security questions, request access to user data.
After verifying the death certificate and access code, Apple removes the activation lock of the user's Apple device, and you can access the information stored in iCloud or download a copy of it from privacy.apple.com. If you want, you can restore a backup copy of his iCloud on your phone. This information can also be accessed through MacBook.
What kind of information is available through Digital Legacy?
People added to the Legacy Contacts list can access information such as camera photos and iCloud notes and email. The complete list of available data is as follows:
Images stored in iCloud
Notes stored in Notes
Mail application emails
List of contacts
Calendar notes
Reminders Reminders
Messages SMS stored in iCloud
Call history
Files stored in iCloud Drive
Health application data
Recorded audio files
Bookmarks and Safari Browser Reading List
Backup copy stored in iCloud
Note that access to this information is only possible after the death of the account holder and Apple verification, and it is not the case that this information will be made available to them as soon as the names are added to Legacy Contacts.
In addition to this available information, some of the data will remain out of reach; Including payment information or shared services or the iCloud Keychain app for password management. The complete list of information that will not be available to Legacy audiences is as follows:
Songs, movies, and books purchased
In-app purchases such as upgrades, subscriptions, game currency or any content purchased within the app
Payment Information
Information stored in the Keychain app, such as Safari usernames and passwords
Online accounts used in email, contacts list, calendar and messages, account number and expiration date and WiFi password

Will user information always be available to Legacy audiences?
No, they will have three years to recover this information once Apple approves the Legacy audience request. At the end of this period, access will be taken from the recipient and the deceased person's information will be permanently deleted.
Is Legacy Contacts the same as Recovery Contacts?
In addition to introducing Digital Legacy, Apple has unveiled another new feature called Recovery Contacts, which can be used to recover access to an Apple account if you forget your password. The only similarity between the two is that they were introduced at the same time; Otherwise they have nothing to do with each other.
Introducing Legacy Contacts at the WWDC, Mike Abbott said:
You can now add people you trust, such as family or friends, to your Recovery Contact list. People added to this list will not have access to your account; But if you ever forget your password, you can call one of them to get the code you need to log in to your account. This feature is fast, easy and secure.
The Recovery Contacts feature gives you access to your account, and people added to this list can only provide you with the code that Apple sent them, and you need it to recover access to your account. Digital Legacy, on the other hand, is a feature that allows someone other than you to access the account and is only activated if the user dies. People added to Recovery Contacts and Legacy Contacts do not have to be the same.
What do you think about Digital Legacy? ‌ Do you think all user information should be lost after death, or should family members have access to this information, such as photos, audio files, and notes?